Joy
Poet, Seeker, and the Woman Who Captivated C. S. Lewis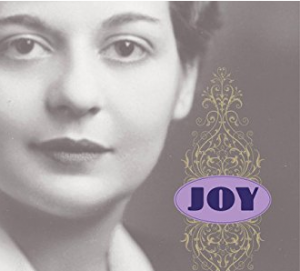 ---
Rebekah's Review
I enjoy reading biographies. It is always a fascinating thing to find out what makes a person tick. Abigail Santamaria very thoroughly researched the life of Joy Davidman Gresham, the woman who captivated C.S. Lewis as the subtitle states.
Now I know why many of Lewis's friends did not like Joy. They were intrigued by her and so was I, but she would have been a difficult person to get along with. She explored and immersed herself in all the things that I would avoid, Communism, Dianetics (the precursor to Scientology), drinking, and other worldly pastimes. She was a seeker. The author sees her "journey" to Christianity as a person seeking paradise, but being fooled too often by a false heaven.
The culture of writers and writing guilds was interesting to read as she struggled to make ends meet as an author. I was most disappointed with her failure as a mother. Her children suffered much as a result of her focus on writing and selfish pursuits. She first became enamored with C.S. Lewis after reading his novel, The Great Divorce. Lewis captured the minds of many intellectuals of his era, including Joy. He pointed them to Christianity in a venue that they understood. Perhaps her difficult childhood coupled with her brilliant mind explains her stinging personality. And maybe that's why in the end she needed another brilliant mind to fully understand her. Lewis and his brother enjoyed her because she was unpretentious and open with them, some would say rude and crude, but the brothers had had their fill of disingenuous admirers. She was refreshing to them. I would have to assume that even though she went to England to beguile Lewis, he must have known she had fallen for him long before he fell in love with her.
Part of me feels sorry for Joy that her life was so turbulent and difficult, but then again, she brought a lot of it on herself. I'm not sure if she truly came to know Christ as Savior in the end, but she did convert to Anglicanism. The biographer doesn't go into those kind of details that I'd be interested in, and neither did C.S. Lewis in his writings for that matter. I would like to assume that both of them accepted Christ as their Savior. After all, she was a tremendous influence on three of his works, Surprised by Joy (not about her, but rather about topics that brought them together), 'Til We Have Faces, and The Four Loves (one of my favorites). So who knows? Maybe we'll see Joy in heaven one day.