Partners in Ministry
Help and Encouragement for Ministry Wives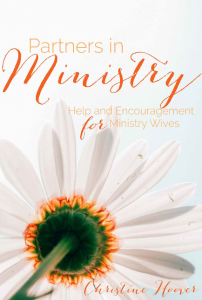 ---
Rebekah's Review
This was a good little book overall, especially for the Type A personality pastor's wife. For me it seemed like a lot of the author's struggles within her spirit were not my struggles. I wished there was more from my point of view. However, there was a lot here that were good reminders for me.
Positives:
Being (or not being) the cool church is not the point.
Strength and power comes from God.
Faithfulness is the goal.
Uniqueness of each individual and individual ministry.
The need for rest.
We don't need the approval of man, only God's approval.
The chapter about Friendship was better than I thought it would be. It was not the type of stuff I want to hear or do, but it was good for me.
The chapter "Specifically for Sundays" was …. what I needed.
Negatives:
The only negatives were my old annoyance at the author's concept of grace living or gospel living versus "legalism". Do we change through effort? Yes. (See my article "It's a Relationship AND a Religion".) Also, this kind of writing is such a contrast to the old style writing about sanctification and holiness. While the casual, modern language is enjoyable and easy and quick to read, I find myself wanting to go back to Tozer or Spurgeon for some more depth.