True Feelings
God's Gracious and Glorious Purpose for Our Emotions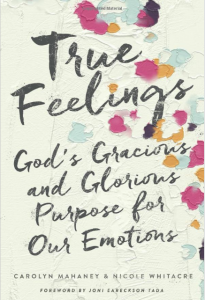 ---
Rebekah's Review
This was a really great book. Easy to read and not too long which is good for a busy mom like me. It is written by a mother and daughter who have two different personalities. She says if you imagine Marilla Cuthbert and Anne Shirley writing a book together, that's what you'll get in this book. I can relate more to the even-keeled Marilla, and Anne is an example of a totally different emotional makeup. Marilla is one of my favorite characters ever written, and I love all the "Annes" in my life, too.
The author constantly refers to Scripture, and I really appreciate that. Quotes are nice and pithy sayings help us remember a truth, but Scripture IS truth. Basing the ideas in the Word means this book is not a fluff book.
I think we often deceive ourselves into thinking that we can't control our emotions. But the Bible clearly expects us to conform even our feelings to Christ. I've been guilty of walling off my emotions. I tend to want to turn off my feelings. But obedience is not the absence of emotion. Rather it's a part of the obedience. "Serve the Lord with gladness, " "Be tenderhearted," "Let the peace of God rule in your hearts." This is the main theme of the book:
We cannot be content with half-truths about our emotions. Obedience is more than feelings, but obedience is not less than feelings. God doesn't command our minds and our wills and then give us a free pass when it comes to our emotions. He calls us to obedience with every one of our faculties, including our emotions. If our feelings are from God and for God, then we must feel— and not just think and act— the way he tells us to feel. Scripture's feeling commands raise the godliness bar considerably. So high, it's scary. We may have thought we were within striking distance of many of the actions required by Scripture. After all, we "show hospitality" (Rom. 12: 13); we are "not neglecting to meet together" (Heb. 10: 25); we do "good works" (1 Tim. 6: 18); and we "let no corrupting talk come out of [our] mouths" (Eph. 4: 29). We all admit we've got our fair share of weaknesses and sins, but we think, on average, we are pretty good Christians. When we include Scripture's feeling commands in our evaluations, however, the results change. No matter how much we serve or sacrifice, if we don't feel the emotions God wants us to feel, our acts of service fall short of the obedience he requires. The Israelites' lack of feeling actually provoked God's righteous condemnation: "Because you did not serve the Lord your God with joyfulness and gladness of heart . . . therefore you shall serve your enemies . . . lacking everything" (Deut. 28: 47– 48). Yikes! God never intended for us to perform our duties grudgingly, without feeling or emotion. He did not create us with the faculty of emotion only to have us leave it out of the Christian life. Rather, God designed our feelings to play a central role in our service to him. (pg. 62-63)
Buy this book for yourself and read through it with your daughters too.