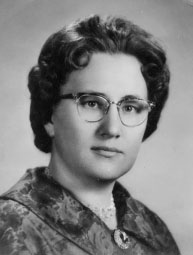 My daughter, Katie, told me this morning, "Now Busha knows what heaven is like?!"
"Yes, Katie," I said.
"And your grandpa is there too?"
"Yes, they are together again. And their bodies don't hurt anymore and they can finally rest from all the work and labor they accomplished while they were here."
Katie smiled, and I had to re-post this article I wrote almost a year ago. My grandma (known as Busha to my kids) went to be with the Lord peacefully in her home last week. She was a tremendous example of what a helpmeet is.
"I have fought a good fight, I have finished my course, I have kept the faith: Henceforth there is laid up for me a crown of righteousness, which the Lord, the righteous judge, shall give me at that day:and not to me only, but unto all them also that love his appearing" (2 Timothy 4:7-8).
---
Written on August 10, 2013:
My four-year-old to me seemingly out of the blue asked me, "Mommy, what's heaven like?" I get so caught up in the busyness of life that sometimes I forget that this world is passing away and everything in it (1 John 2:17). Maybe I am more like my young children when I forget that even on our best, most joyous days there is a better age coming. It is sometimes hard to conceive of a place where I've never been. However, God has promised a home in paradise for those who believe and accept that Jesus died on the cross and rose from the grave to forgive our sins, and He has told us some of what we will experience there.
I'm a home body. My favorite place to be without a doubt is home. Recently, though, our family has been through a transition time, and for now we are not able to put roots down. For me that means, home-making is minimal and it just doesn't feel like home though we love being in the northwest and helping a small church plant. I suppose that's the same feeling I get, not often enough, when I daydream about heaven. "This world is not my home, I'm just a passin' through." I've tried to make it a point to say my thoughts out loud to my children when it's appropriate, and so I think that's where Katie's question came from. She knows that someday after she dies she will go to heaven because of her faith in Jesus. "What is that like?" she wants to know.
Beauty beyond compare
"There will be streets of gold. City walls made of jewels, gates of pearl, and a sea of crystal. Wild animals won't be wild anymore and you can play with the bears and lions (Isaiah 11:6-9). We get to live in a special home just for us. And a river will flow out of the throne of God and make all the land beautiful. There will be no more weeds and there will be trees that grow all kinds of fruit all year. And we will get to see the angels."
I thought my girl might like to hear about the amazing sights and wonders. So often we forget that this world is cursed and we live with the left-over fallen parts. I'm looking forward to enjoying the beauty and wonders and a new creation (2 Peter 3:10-13; Rev. 4:6; Rev 21).
The curse will be lifted
"There will be no more owies or surgeries or sickness or death." (Rev. 21:4-5) To myself I added, "No more struggle with my weight, no more dark circles under my eyes, no more pimples, no more aches and pains." It's a struggle for our family to stay healthy anymore. We have four little ones and whenever we travel we catch some bug and share it among us. My sweetheart has had two major surgeries this year because of injuries, and we need to get him in to see the doctor for new glasses. My son had a reconstructive surgery on his cleft lip last year. I have to take pills every day for my thyroid. More than one of us needs to go in to the dentist to have cavities filled. We are dealing with some poison ivy right now. On a daily basis it seems, we are kissing the bumps and bruises and scrapes. These things are all par for the course for our generally healthy family.
I have so many friends and family members who have dealt with much worse things like cancer, Type I diabetes, rheumatoid arthritis, mental conditions, heart defects, and the list goes on! I have wept and prayed often for friends who have had mourned loved ones whose bodies could not fight these physical battles any longer. How we long for our new bodies and new creation (1 Corinthians 15:42-49).
Loved ones there
I have a friend whose husband is in the military. He's been overseas for an extended tour of duty and just returned home this week, so I've been watching photos and videos of the homecoming celebrations. It warms everyone's heart and brings tears to eyes to see that great crowd of spouses and children and parents in the hangar eagerly awaiting their loved ones' arrival. The hangar door opens and the crowd cheers as daddies and mommies and sons and daughters march proudly in formation for their final dismissal. They have been victorious in battle and have now come home to rest and really live life.
That is what it will be like when I get to go home to heaven. So many victorious loved ones will be saying, "Look! Here she comes!" The battle will be over and the victory finally won! I think of my grandpa, Peter Slobodian, who served the Lord faithfully from the day he was saved until God called him home. My grandmother, Berniece Shrader, who infused common sense and a love for knowledge and a love for family into every situation she found herself. I have friends who have lost children, and I have friends who never knew a parent because they succumbed to a disease or injury. We will see those loved ones again if they are also believers in the Lord. Death is not sorrowful for the believer, but rather we look forward to heaven and seeing that great cloud of witnesses welcome us home.
No more sin
Katie's eyes brightened when I told her, "There will be no more mistakes, and no more messing up. No more bad people or mean people. There will be no more lying or disobeying or getting in trouble because we won't sin anymore." I remember when I was little being so frustrated that I kept messing up. I still get upset at myself when I do wrong. It's this sin nature within me! Someday, it will not be a struggle anymore to do right. What a glorious thought! Katie, I know, is sorting out in her head the idea that God has washed her sins away, but yet she still sins.
For my family in the ministry we see often how much work there is to do for the Lord, and how little time and energy we have to do it. There are days when I just want to go away by myself and quilt to my heart's content. (That's the introvert in me.) But if I did that, then I would not be giving the gospel to a lost world who needs the Lord. Now is the time to work. "Today is the day of salvation" (2 Corinthians 6:2). The time to rest will be when the Lord returns for us.
I look forward to worshiping the Lord with a truly pure heart without distraction and without controversy. We do our best to accomplish this here on earth, but we fall short so often. With today's controversies about what is acceptable in corporate worship and whether we are being worldly or hypocritical, I look forward to the day when we can see clearly and we can sing a new song, pure and true (Revelation 14:3).
Our Lord Jesus Christ will be there
The news is full of antics from our corrupt political officials and those who are fearlessly fighting against corruption. But I look forward to living in a Kingdom where our sovereign King will be in complete control, ruling with a rod of iron and with perfect justice and wisdom and benevolence. Oh for that day! God Himself will wipe away our tears. We will rule and reign with Him (Revelation 20:4). The One whom we've studied, and prayed to, and sung songs about, and worked so hard for will finally be there with us. I can hardly comprehend that, but I know it's true. One of the amazing things about the Godhead is that although He is perfect and complete without man, He chooses to be involved in our lives and have fellowship with us for eternity. "What is man that you are mindful of him, and the Son of Man that you visit him?" (Psalm 8:4) A love like His is awaiting us.
For to me to live is Christ, and to die is gain. But if I live in the flesh, this is the fruit of my labour: yet what I shall choose I wot not. For I am in a strait betwixt two, having a desire to depart, and to be with Christ; which is far better (Philippians 1:21-23).
Photos used by permission. Thanks April!